Make it personal.  Adding your name, monogram, qwerky word, or even a short saying can say a lot about you in a small amount of space.
Custom embroidery can be added to my chair pockets, tote bags, aprons, cell phone stations -- just about anything that I can get in my hoop is eligible for embroidery. 
Custom means "made just for you."  I digitize everything that I embroider.  That means that I use a software program to create a unique embroidery file based upon your font choice and the item to be embroidered.  
The "Glenda" and "Ms Arnold" shown below are special fonts used on the "On Duty" tote bag sold in my store.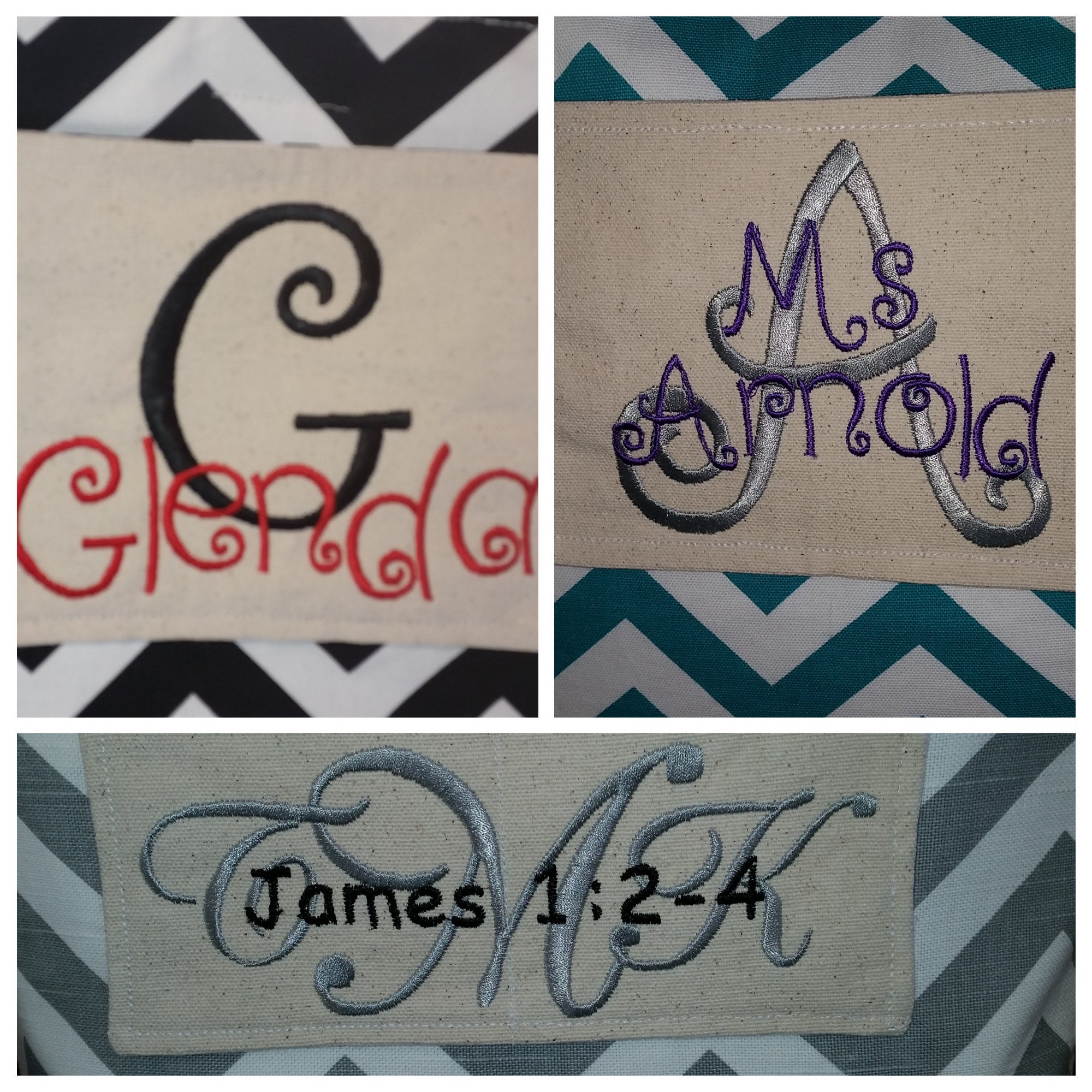 Size matters.  When embroidering chair pockets, you want an embroidered name can be seen across the room.  Since I digitize all of the names I embroider, the size of the letters will be as large as possible to fit into an 11" wide space.  (Max letter size is 2.5 inches tall for the machine to fill in the letters.)  Keep in mind that a SHORTER name will have LARGER letters than a LONG name.  
Embroidery Alphabets
Current font choices for chair pockets are shown at below.  Pictured are ACTUAL embroidery samples -- not just an image.  (Refer to the font by Alphabet Number.)  I have only purchased the software for the alphabets that are shown to below.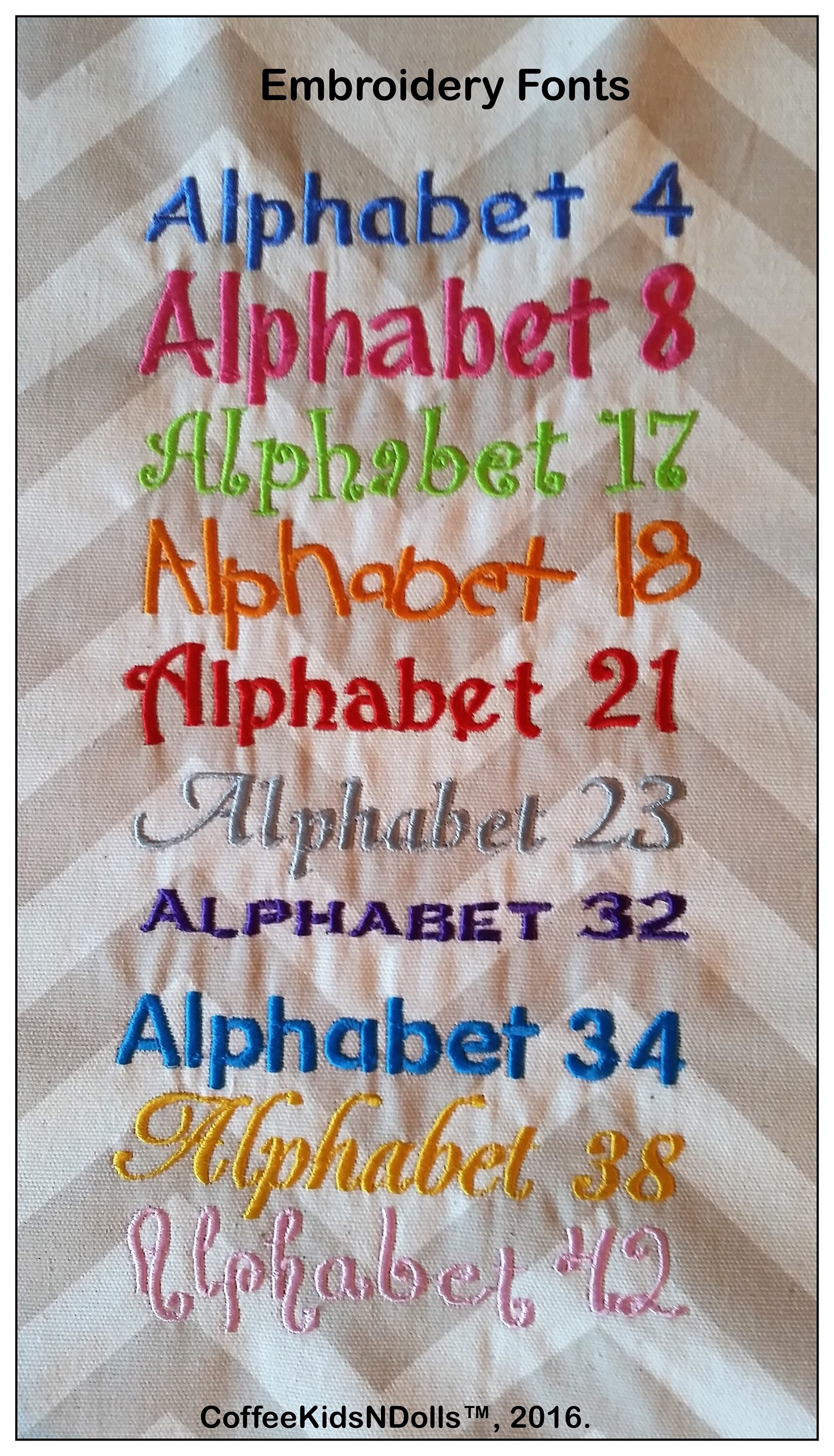 If you want to view the full letters in the alphabets, please refer to this EMBIRD site (this is where I have the digitized alphabets purchased from.)
Thread Colors.  With a large selection of thread colors available, you can find a color that works just right for you.  
I use high quality SULKY embroidery thread for its silky appearance and beautiful coloring.  Colors available are:  Yellow, Corn Yellow, Orange, Tangerine, Purple, Pink, Candy Pink, Green, Olive, Black, Red, Maroon, Gray, White, Cream, Dusky Blue, Aqua, Turquoise, Cobalt Blue, and Navy Blue.  Each of these colors was matched to the chevron duck fabrics that I stock for chair pockets.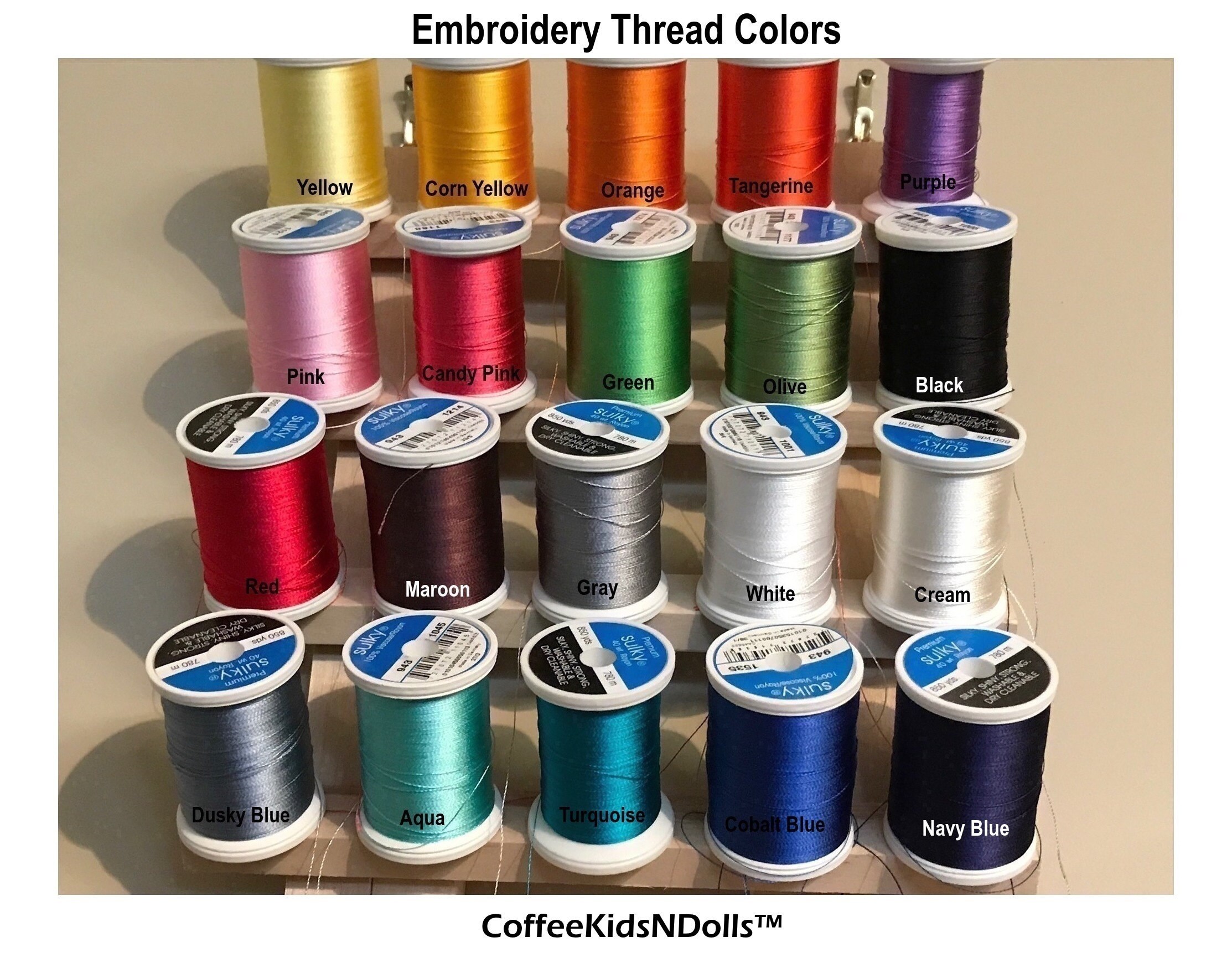 Contrast.  When selecting color combinations, keep in mind that like colors will often blend together and make embroidery difficult to see.  I recommend sharply contrasting colors to give the best effect.
Unsure what to choose?  Here are some color combinations to consider.