This style is the PREMIUM chair pocket  and features a pocket that expands up to 7 inches deeper than a traditional straight pocket.   
 This PREMIUM option is my most expensive style because it requires more time and materials than my other styles.  This beautiful style is the most desired, but the cost is significantly more.  This chair pocket also features a gathered pocket with an elastic band that fully stretched across the top of the pocket.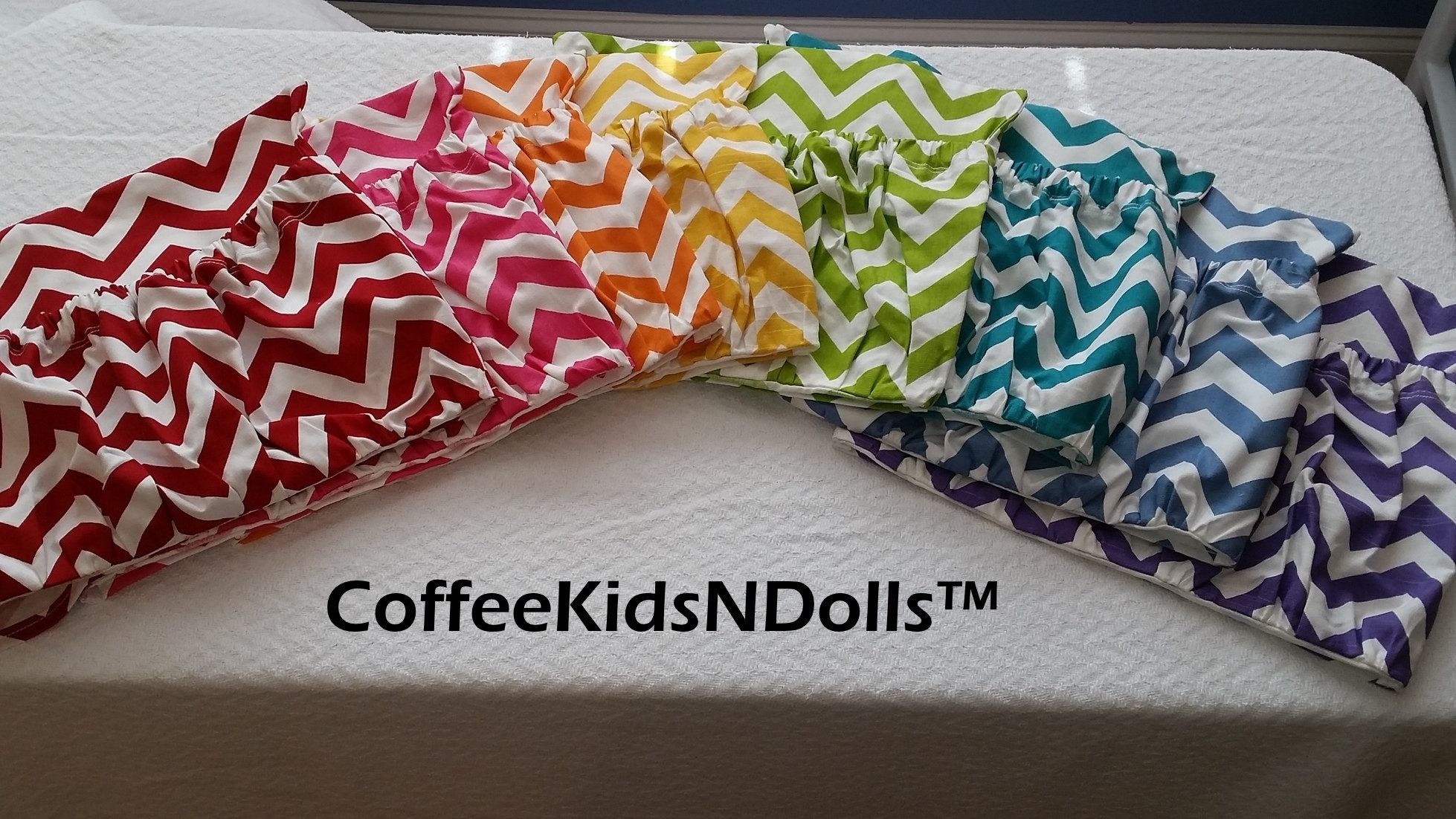 Most chair pockets are made quickly, and cheaply, by folding fabric  -- in at the top and out at the bottom -- and then stitching the sides.  In many cases, either the pocket or the back of the fabric is actually inside out.  My chair pockets have several more steps involved!
A Pocket That Holds More.  Each cover features a gathered pocket design that expands to allow for storage without stressing the fabric seams where chair pockets most often rip out.  I use non-roll premium elastic banding that does not lose its stretch over time.
If this style is not in your budget, check out my other chair pocket designs.. Designed by request from other teachers, I also offer these other pocket styles:   Basic (pleated, 3 inch pocket), Tabless Deluxe (pleated, 5 inch pocket), and Deluxe (pleated, 5 inch pocket with adjustable tabs.)
Made to Your Specifications.  Have you ever walked into a classroom where the chair pockets were sloppy or fell off all the time?  That's because they were not made to fit the chair.  A good fit requires measurements of your chair. A picture of your chair is always helpful -- some chairs need extra reinforcement at the top.
Check out my blog on How To Measure Your Chair for more details.
Styled Just For Your Chair.   The same style does not always fit every chair.  I now offer two different chair back options, the TALL BACK and the FULL BACK. With so many styles of chairs out there, how do you know which style to get?  I've made chair pockets for 6 years and have adapted my pattern to help with fit.  Select from TALL BACK or FULL BACK, depending upon your chairs.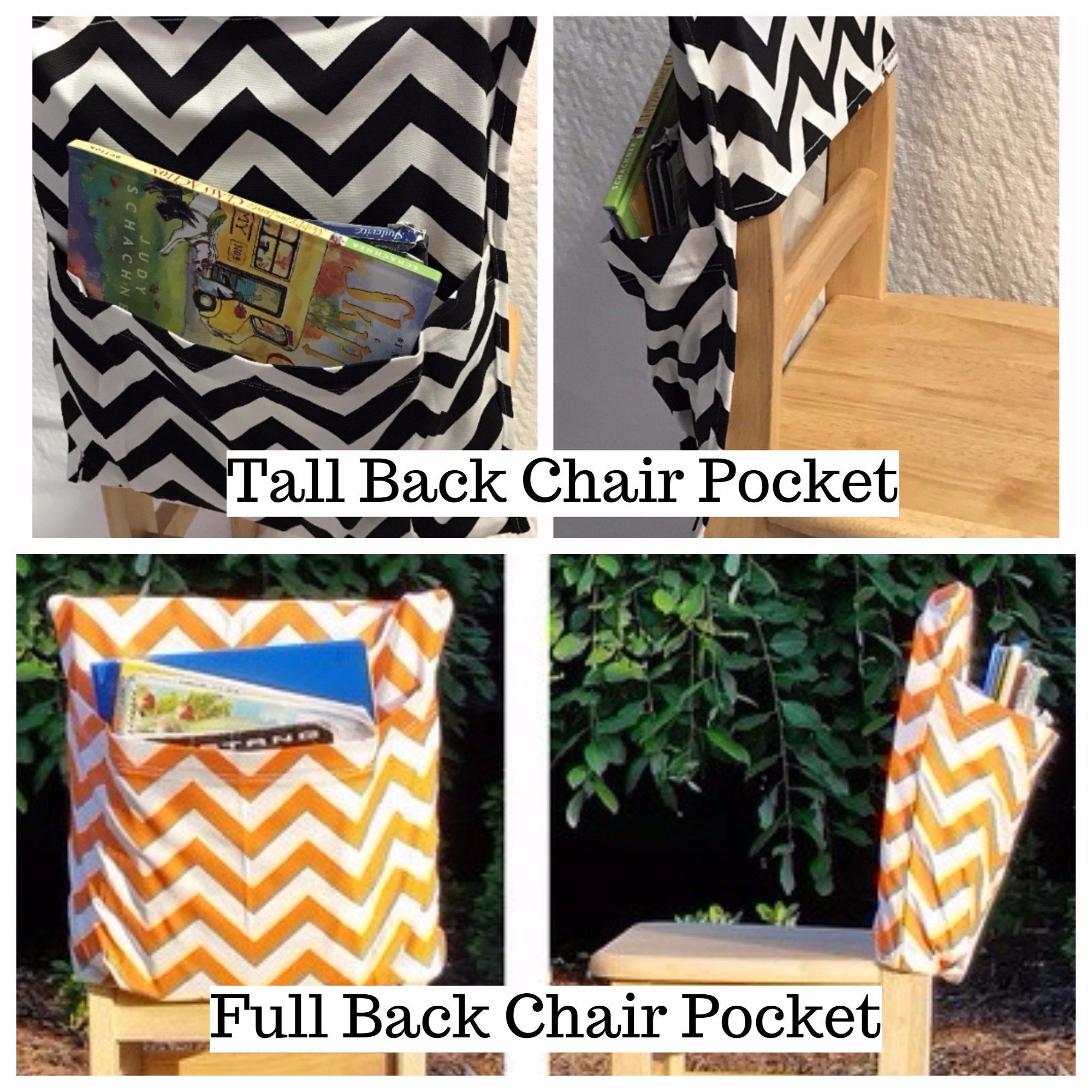 Look for my blog on Chair Back Selection.  Or, simply send me a picture of your chair and I will help you determine which style works best.
Thoughtfully designed.  This design was not just a quick notion.  They were developed with input from teachers and through practical classroom use and testing.  
I developed my standard sizing that I now use based upon previous customer orders and by researching chair sizes from major classroom chair distributors ( Virco™ , Scholar Craft™, ECR4Kids™, and National Public Seating™.)     
Long lasting.  With limited funds available, teachers need resources that are dependable throughout the entire school year and beyond.  While my covers may cost a little more up front, they are proven to last for several years of continuous use. 
Endless Fabric Options.  My covers are made to be kid tough!  They feature top quality materials including Premier Prints, Inc™ duck cloth -- the same fabric used by named brand retail stores in chair cushions and upholstery applications.  
The color combination are endless-- you choose any combination at the same price!
                               CHEVRON FABRICS
(Please note that yellow, pink, and maroon chevron have bee discontinued by the manufacturer and are no longer available.)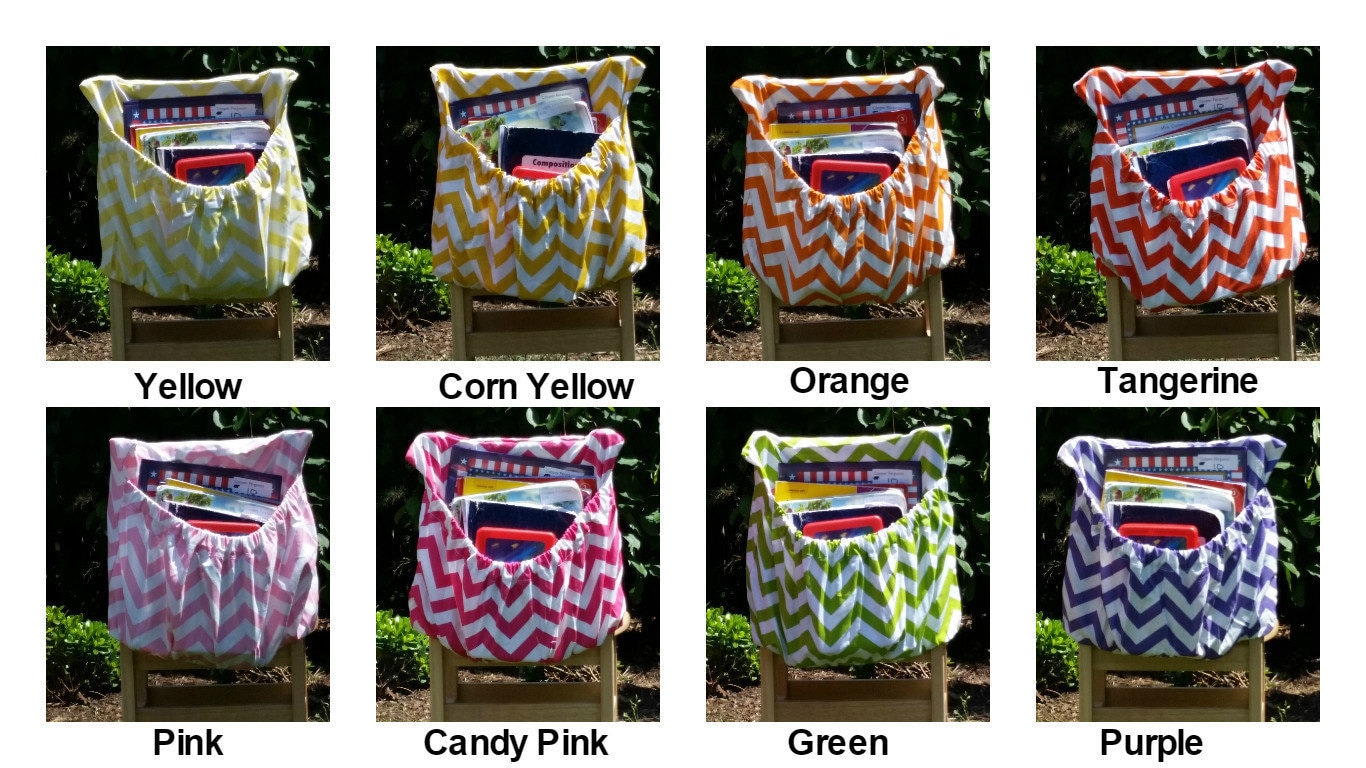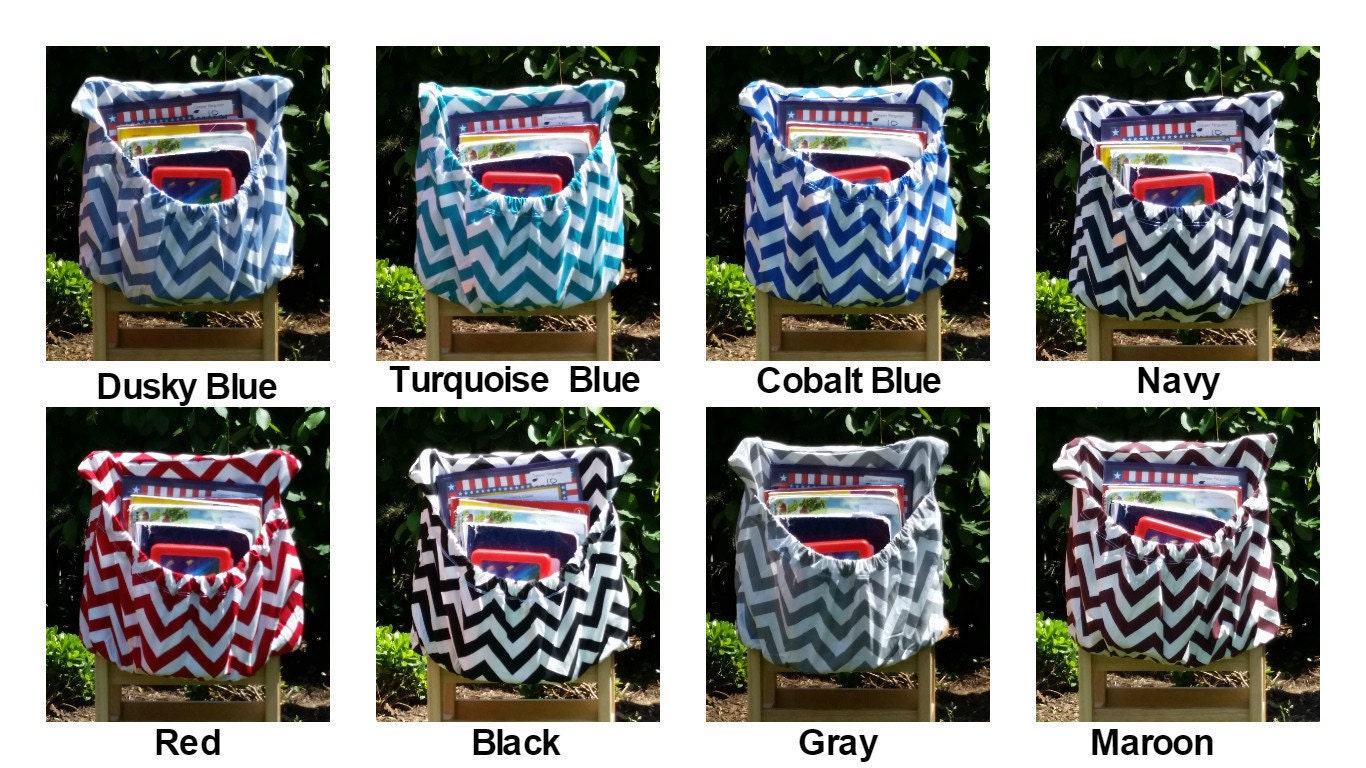 Some limited edition fabrics may also be available.
Easy care.  Simply wash these covers in COLD water in your washing machine and then LAY FLAT or AIR DRY (do not machine dry.)  A quick touch up with the iron can be used to press the pleats back in place.  As an added precaution, you can always Scotchguard™ your covers before use to keep them cleaner longer.  
Guaranteed.  Did you know that I offer a ONE YEAR GUARANTEE on all of my chair pockets?  If your chair pocket fails with normal wear and tear in the first year, I will replace it for free!